Fragrant "spells mary" - let yourself be seduced by aromas
2022-08-05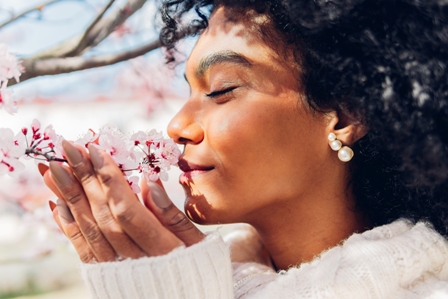 Our nose is an amazing medium - the smells it senses often bring back childhood memories, they can influence our behavior, emotions and our purchasing decisions. As we mentioned in the previous article, it is the sense of smell that largely guides us when choosing cosmetics. There is a huge power in fragrances, and although everyone selects them individually to their preferences, one thing never changes - the fragrance has to associate well for us.  
It is also worth knowing what function a specific aroma can fulfill in our everyday life, so that we can combine pleasant with useful. There is no doubt that many fragrances are used to alleviate physical and mental ailments. Therefore, we have prepared a short overview of those the most commonly used in cosmetics along with information about their impact.
The most popular aromas used in cosmetics
Rose fragrance - calms you down, lowers blood pressure and regulates the heart. When applied to the skin, it rejuvenates and soothes. It prevents the expansion of blood vessels. In addition, the scent of the rose acts as an aphrodisiac, so it is worth using rose cosmetics, for example, before a romantic dinner.
 The aroma of sandalwood - a wonderful oriental fragrance that will put you in a calm and reflective mood. It is used in inflammatory skin conditions due to its disinfecting properties. Interestingly, it is often added to disinfectants used indoors.
Bergamot - its refreshing citrus aroma has antidepressant and anti-stress properties. In cosmetics for oily and seborrheic skin, it is used as an antiseptic ingredient, soothing skin inflammation. It is also often found in antiperspirants.
Lavender - has anti-inflammatory and anti-acne properties for the skin, while for the spirit it is calming and relaxing. It fights anxiety, irritation, and reduces tension. That is why it is most often used in bath cosmetics and in those for the night, because the scent of lavender makes falling asleep much easier.
Orange smell - undoubtedly, like any other citrus aroma, it improves the mood, but also refreshes and stimulates the appetite. Orange oils used in lotions have a beneficial effect on the skin condition and is an anti-cellulite ingredient.
Coconut flavor - will make you feel good and relaxed after a hard day's work, it will help you get rid of tension and stress. The coconut scent stimulates the appetite, so it can cause a sweet bite desire.
Chocolate fragrances - under their influence, we relax and feel a surge of energy. These sweet fragrances improve mood and enhance concentration. As you can see, the relaxing effect of chocolate is not only dependable on its taste.
Vanilla - not only improves your mood, like most other aromas, but also relaxes and makes it easier to fall asleep. What's more, the scent of vanilla repels mosquitoes, so we protect the body wrapped in this fragrance against unpleasant bites in the summer.
Forest fruits - their sweet smell is often associated with childhood. Blueberry, raspberry or blackberry, but also wild rose and mountain ash are the aromas that stimulate action.
The smell of coffee - the most important, one of the most intense and broad-spectrum, at the end. Coffee itself is supposed to stimulate, wake up, add energy - and its aroma works in the same way. Coffee-scented skin can help us stay motivated for most of the day, sharpens our senses and reduces fatigue.